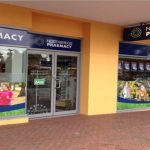 Commercial glass repairs and glass replacement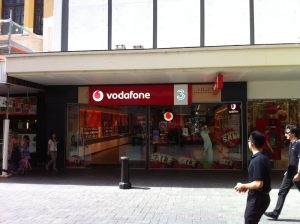 Glass Perth specialize in glass repairs and glass replacement.
Our Glaziers are able to replace just about any type of glass for your shop or office, no matter where you are located in Perth.
Often we can be on site in under 1 hour for a emergency.
We are aware broken glass shop fronts and doors can impact greatly on your business.
When glass is broken on a shop front it requires immediate attention either immediately after the glass is broken or before or after your business is open depending on the severity of the breakage.
Since 1994 it has been a law to install grade "A" safety glass in doors and large windows so in a lot of cases when the glass is broken there no dangerous glass, due to the fact that either laminated or toughened safety glass was installed.
As a professional company all our work is always done according to the Australian standards.
For peace of mind for your insurance claims we guarantee that ALL insurance companies happily accept and pay our invoices and have done so for the past 14 years with never a problem and we will invoice your insurance company on your behalf to save you the time and hassle.
Aluminum frames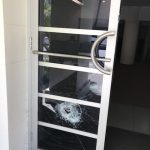 The great majority of shop fronts in Perth have aluminium frames consisting of floor to ceiling windows and glass two panel doors.
The same glazing principle applies to a large percentage of these windows and doors and different types of doors such as automatic sliding doors, pivot single and double doors and manual sliding doors.
We have 24 Years experience replacing glass all the different types of aluminium shop front windows and doors in Perth.
Timber frames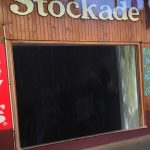 A lot of older shops and offices have timber shop fronts. These can be seen all around Perth especially with heritage listed buildings.
Perth city, Northbridge, Fremantle and claremont have a lot of timber shopfronts but they are all over Perth.
Besides the old buildings having timber shop fronts there are a number of newly built shops with timber framed doors and windows.
We can replace glass to all timber framed windows and doors.
office partitions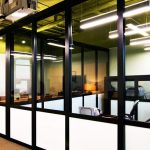 Glass office partitions are very common in businesses in Perth and Australia.
Glass office partitions come in several different styles and frame types including timber and aluminium.
Glass breakage is a high possibility when furniture and machines are being moved in around your office.
A fast glass replacement is essential especially when there is a large number of personal who work in and around your business.
Glass Perth can assure you that any glass repair you may need will be completed in a very timely manner.
Glass Perth have replaced a lot of glass in commercial properties all over Perth.
Here are some examples,