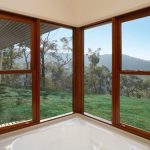 Timber framed window and door glass replacement for homes
Timber framed window and timber framed door glass repairs and glass replacement.
In Perth most older homes and a number of newly built homes have timber windows and doors.
some people prefer the look and feel of real timber windows and doors. Wooden windows and doors have a charm and character that will last forever.
A window consists of an outer frame that goes into a wall, and a sash that goes into the outer frame that holds the glass.
The style of the window refers to how the sash operates or opens within the outer frame. these types include double hung, awning, casement, and sliding timber windows.
The time taken to replace broken glass in these windows will differ depending on what style of window you have.
Fixed panel timber window and door glass are often held into place using a timber bead which is nailed into the frame along with a silicone adhesive to prevent leakage and the glass rattling in the frame.
With opening sash windows, casement, double hung windows the glass is held in place with putty and diamond point sprigs which are sunken into the wood to hold the glass in and then finished off with a face putty. Wood putty only comes in two colors which are white and brown the appropriate putty is used depending on what timber type your home has.
Glass Perth is able to replace the glass in all timber windows and timber doors.