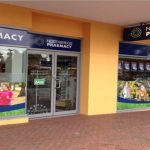 Shop & Office Glass Repairs Perth
Commercial glass shop front window and door glass repairs and glass replacement Perth WA.
Glass Perth specialize in glass repairs and glass replacement.
Our Glaziers are able to replace just about any type of glass for your shop or office, no matter where you are located in Perth.
Often we can be on site in under 1 hour for a emergency.
We are aware broken glass shop fronts and doors can impact greatly on your business.
When glass is broken on a shop front it requires immediate attention either immediately after the glass is broken or before or after your business is open depending on the severity of the breakage.
Since 1994 it has been a law to install grade "A" safety glass in doors and large windows so in a lot of cases when the glass is broken there no dangerous glass, due to the fact that either laminated or toughened safety glass was installed.
As a professional company all our work is always done according to the Australian standards.
For peace of mind for your insurance claims we guarantee that ALL insurance companies happily accept and pay our invoices and have done so for the past 13 years with never a problem and we will invoice your insurance company on your behalf to save you the time and hassle.
We replace glass to all aluminium framed windows and doors.
We replace glass to all timber framed windows and doors.
We also replace glass to office partitions.